Posted August 18th, 2009 by William Willing
Categories: Game development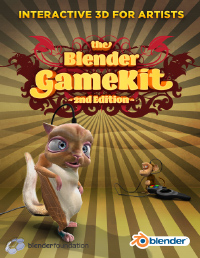 Today, I received a review copy of the book The Blender GameKit, 2nd edition. I'm always keen to learn new skills and since I know nothing about Blender, this book could prove to be very interesting. For those of you who don't know, Blender is a free, open source 3D content creation suite. The Blender GameKit is a game creator and engine and is an integrated part of Blender.
Unfortunately, it might take me quite some time before I've used the book enough to write a fair review about it, so I decided to do things somewhat differently. Over the course of the coming days/weeks, I will be blogging about my experience with The Blender GameKit while I work my way through it. If you don't want to wait for that, you can order your own copy of the book at the Blender Store.
Let's start with some first impressions.
First impressions
The Blender GameKit is a softcover book containing 320 pages, printed in full-color. The layout is very clear and the pages are full of screenshots and tables. It all looks quite inviting. Colored tabs at the bottom of each page make it easy to quickly located sections in the book.
The book is basically divided into three parts: introduction, tutorials and reference. The introduction gives basic information about 3D and about Blender. The seven tutorials are categorized according to difficulty: beginner, intermediate and advanced. The reference material takes up a little over a hundred pages, but I can't say anything yet about its usefulness.
The accompanying CD contains pretty much what you'd expect. There is a copy of Blender, of course. For every tutorial, you can find source code, assets, intermediate steps, and the final result.
Expectations
After working my way through the book, I expect to be able to create a decent hobby game with the Blender GameKit on my own. I don't think I can learn the skills necessary to develop a commercial quality game from this book alone, but I should be able to deal with things like rendering, input, sound, game states, and GUI at the end of my journey.
Since I don't know the first thing about 3D modelling, I'm curious to see whether this will be a problem. The back cover of the book says that "The Blender GameKit includes an extensive section for those new to 3D or to the Blender suite itself", but the book is subtitled Interactive 3D For Artists, so let's just wait and see how that turns out. To be honest, it'd be fine with me if my games are made up of textured cubes and cilinders.
Next
Whenever I write something about The Blender GameKit, I'll add a link to it here. If you have any questions about the book, don't hesitate to ask.